The past 7 years I've been so lucky to celebrate the start of a new life year abroad, either doing something exciting or lazing in the shade of a coconut tree. Because this year was so different, I thought I'd look back on those past birthdays.
Turning…
…22! Stargazing in Liechtenstein's Alps
As wild camping is legal in Liechtenstein, my then boyfriend and I made our way to the Alps. We pitched a tent in a beautiful meadow and spent the evening celebrating under the stars with bubbles and smoked salmon. It was my first time camping in the wild and I loved being totally isolated in nature. Though I must admit, there were moments at night where I was convinced a mad serial killer was scratching our tent… Tsss, city girls…
…23! Exploring Marrakech and its bazaars
A birthday in the old city of Marrakech was a perfect ending to a two week trip through South Morocco and Western Sahara. We exchanged our dusty desert clothes for urban wear and spent the evening bargaining in the souk and sampling Moroccan wines on rooftop bars.
…24! Solo in Egypt
Instead of flying straight home after a conference in Egypt, I prolonged my stay to see as much of the country as I possibly could. Birthdays are usually spent with friends and/or family, but that time, it was just me. I was proud to be a 24-year-old assertive and mature enough to 'survive' the chaos of Caïro. I was proud to be fit enough to climb Mount Sinai for the sunrise. I was proud to be brave enough to travel solo in an unknown, male-dominant country. I felt lucky to have the freedom to do what I was doing.
…25! On a 40 hour train ride across India
Being crammed on a stuffy Indian train might be one of my most unglamorous birthdays . A group of Indian men sitting on the bed opposite mine, staring at my every move. Rats sprinting across the wagon, passengers loudly clearing their noses by spitting everywhere, toilet floors inundated with urine… It wasn't much of a celebration, but rather an extremely long two days to get through. After the 40 hour ride, I was treated to a huge cake and beautiful views over Udaipur.
…26! Searching for the best "pasteis" and Port in Portugal
What a road trip; driving from city to city and around the country side, sampling on all the goodness Portugal has to offer. Learning about the Portuguese cuisine and culture was my gift to myself.
…27! Love Cake in Kathmandu
We stalled our big hike in the Himalayas to get mentally ready for the trek. So I spent this birthday in Kathmandu visualising myself on the top of a mountain. I can't remember specific details about that day except… Except the love cake… A famous chocolate cake that has been mentioned as a must-try since the 70's hippie trail. I wasn't expecting much -as usual when it comes to chocolate anything outside of Western Europe- but my mind was blown. I was utterly quiet for a few minutes, couldn't believe I just tasted what I did. Pure bliss! I must admit, my opinion might have been influenced by the fact that I had been eating nothing but flavourless "dahl bhat" and instant noodles for two weeks, but either way, to this day I still think of the Love cake as my favourite chocolate cake EVER!
…28! By the pool in Myanmar
With temperatures reaching 40°C, there wasn't much else to do than lie by the pool in Bagan. Temple visits in the mornings and evenings, cooling off in the swimming pool during the day. A lazy 28th. I was surprised with a gorgeous and elaborate cake… with zero flavour -unless 'fat' counts as a flavour. I ended up splitting donating the entire cake to the staff members.
…29! Cheese and wine with family
This year no palm trees, no temples and no exotic food, but something that's at least just as good, maybe even better: stinky cheese and red wine with my family in Belgium. It might not be a dream destination, but it's exactly where I want to be!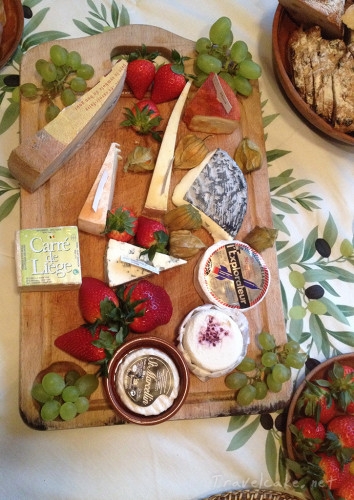 What about you, is celebrating your birthday at home a "must"? 
The post "Birthdays Abroad" first appeared on Travel Cake.