You've probably never heard of Puerto Cayo.
Don't feel bad, most people haven't. Puerto Cayo is a sleepy fishing village on the Pacific coast that doesn't have much more to offer than long stretches of sandy beach spotted with seashells and colourful pebbles. Yet, it's where we chose to settle down for the largest chunk of our 4 month stay in Ecuador earlier this year. We loved our calm beach life and even though there was absolutely nothing going on, we were sad to leave. . Living in Puerto Cayo was a unique experience. It was life at it's simplest.
So what is it like to live in an Ecuadorian beach village as a digital nomad?
As usual, we rented in a furnished house – Pasatiempo del Sur. This time, it was a beautiful apartment by the beach with a pool, a garden and a killer view over the sun setting in the ocean.
A typical day would look like this:
WAKE UP SLOW – coffee and breakfast on the terrace
What I love and miss most about living in the tropics, is how early the days start. Your biorhythm adjusts to the sun, which rises and sets at approximately the same hour every day. There was no need for an alarm, we'd just wake up naturally around 7AM every morning as the sun brightened the sky. I would get out of bed with enough energy to make a fruit salad for breakfast to accompany our morning coffee/tea.
WORK-WORK-WORK
As the mornings are the coolest time of the day in Ecuador, we'd try to get as much work done as possible before temperatures would rise to their maximums.
 LUNCH BREAK + SIESTA
By 11 AM the sun would burn so intensely, it was impossible to get anything done. The entire village would be deserted. Not just for lunch breaks but to escape the heat of the equatorial sun. We'd have a simple lunch at home or take a motor taxi to one of the many restaurants -if I can call them that- on the beach. But truthfully only a mad dog would be out and about around noon.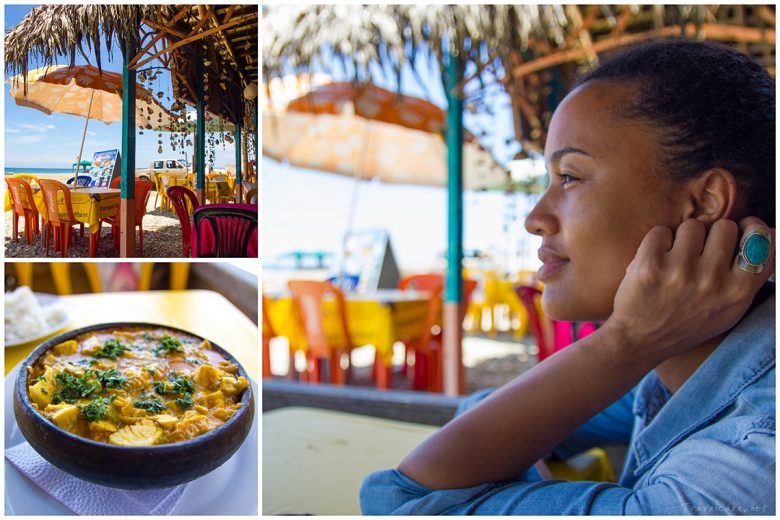 After lunch comes… siesta time! We would not actually sleep (although that happened a few times) but unwind, digest and escape the burning heat outside.
BACK TO WORK + BEACH BREAK
By 3PM, it's still steaming hot outside but more tolerable already. We'd stay inside and get some more work done. Once it started to cool down around 4 or 5 PM, we'd take a break to go for a splash in the ocean. How could you not, when you have a beach all to yourself?! We'd paddle in the waves and swim for about half an hour before returning to our work day.
After our swim, we would work outside; Douglas on his laptop and I cleaning the pool, watering the plants or doing some housework.
APERO WHILE WATCHING THE SUNSET
We'd end our work day by pouring ourselves an "apero" (a drink before dinner) at sunset. Time to sit back and relax. The fact that there was nothing else to do, helped us appreciate nature's spectacle. Whether we'd be home or in one of the fish shacks on the beach, we never missed the show!
DINNER
Sometimes we'd cook our own dinner, other times we would go to one of the few restaurants in town. Options on their menus were limited to fish, fish, seafood or fish. Meat is a scarce commodity in Puerto Cayo.
During the weekends we would laze around the pool, take long strolls on the beach, play with the dogs, go out for brunch or visit a neighbouring town. We learned to be content with uneventful weekends and enjoyed the low-keyed weeks as they drifted by.
Living in Puerto Cayo was a perfect way to get lots of work done and to save some money, as there were no distractions. We took it easy and truly lived in the moment which was a marvellous experience. We laughed and played like unconstrained children. We created our own joy and excitement. We let go of our worries and returned home with renewed energy and a new sense of serenity. In a way, living in Puerto Cayo was like going on one of those "find yourself" retreats.  Another enrichment in our lives.
Could you see yourself living in a tiny town where there is nothing to do? Do you think you could find happiness in a place like Puerto Cayo? 
The post "what it's like to live in Puerto Cayo, Ecuador" first appeared on Travel Cake.