I've been asked the question dozens of times: "what does your life in Bali look like?" I always answer with a detailed description of Ubud, the beautiful spiritual and artsy town we live in. Either I'm not finding descriptive enough words or words just don't cut it; the reply usually says: "I still don't really know what you're doing there, but you sound happy."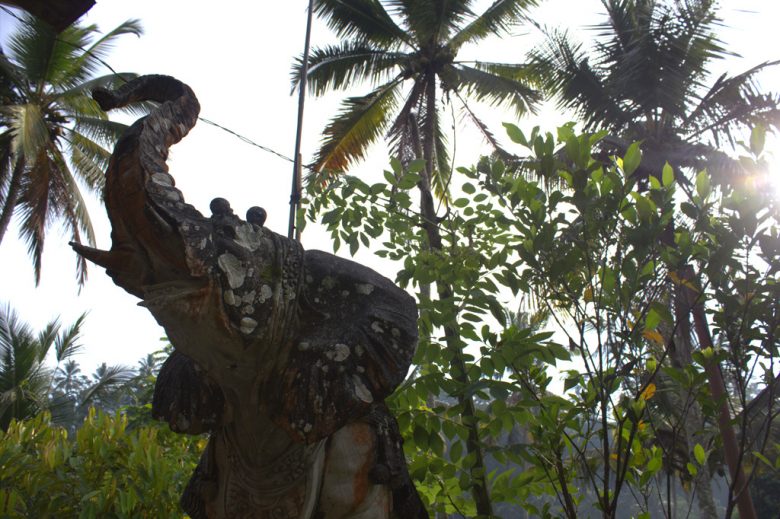 I guess sometimes, you really need more graphic illustrations…
We live in a house surrounded by a lush tropical garden where flowers and fruits grow freely.
It's cheaper to eat at a local restaurant then to cook your food at home. Since most of the restaurant food is organic and freshly prepared, we eat out most of the time.
Even though the food is healthy, there are a lot of treats to indulge on; shakes, baked goods, pizza, ice cream, delicious chocolate- approved by  Belgians. I try to stay active to minimise the damage. Jogging, dancing and yoga help.
We work comfortably from home, every day of the week unless we don't feel like it; that's when we "do weekend". 
The town is quite small and you could walk everywhere, but it gets so hot sometimes, walking is not an options- unless you don't mind arriving at you destination drenched in sweat. We prefer to drive a scooter.
Besides work, I've been learning Indonesian and taking yoga classes.
Every now and then, I treat myself to a fancy coffee or a spa treatment.
We spend our evenings and weekends pretty much in the same way we used to in Europe: concerts, talks, parties and outings with friends… Only the setting is a little more exotic.
Ubud is an artsy town. Balinese as well as foreigners inspire and get inspired to create.
The Balinese are very spiritual. They honour their gods with daily rituals and offerings containing food (often rice), flowers, coffee, cigarettes… and incense. Every minute of the day, somewhere there is a stick of incense burning and filling the air with a mystic aroma of frangipani and sandalwood. It leaves you sighing: "Ah… Bali…"
A growing New Age community has settled down in Ubud. There are holistic healing centres, energy readings, tantric workshops, Tibetan bowl meditation sessions, energy crystal shops, Kirtan chanting, vegetarian-vegan-raw restaurants. Now, I have an open mind about exploring spirituality and every now and then I join the party, but I must admit I've been stunned more than once by some of the methods I hear about in the "neo hippie" community.
Of course there are some down sides of living in Ubud. Like the construction everywhere, all the time. The traffic jams. The fact that the centre is super touristy-in a cheesy kind of way. The fact that every time I walk down the street, I get at least 10 "taxi maybe?"'s. Just to name a few. That being said, I love living in Ubud and I gladly accept the negatives.
Have you ever lived abroad? Would you like to?
The post "What it's like to live in Ubud, Bali" first appeared on Travel Cake.
Want to stay updated? Join me on Instagram for more pictures