… Because they should be overnight trips!
Day trips… they're convenient when you want to see as much of a region as possible in a short amount of time. However, there are quite a lot of these convenient trips that really don't do the place justice. You find yourself with hundreds if not thousands of day trippers, packed in the same shops and highlighted areas, you miss the perfect lighting for incredible photo's at dusk or dawn and most importantly, you by-pass the soul of that place.
It happened to me a few times while other on other occasions I saw it happening to others. I've put together a list of places where I've either been bummed out not to have spent the night or have been extremely happy not to be part of the day tripper groups visiting the town.
1. Bhaktapur, Nepal
Often done as quick side trip from Kathmandu, most visitors only get a glimpse of the cultural gem of Bhaktapur. A day trip here will allow you to spend a few hours in the central area, have lunch in a reputed restaurants' and shop in one of the many little kiosks surrounding the main square. It's a small city swarming with monuments, religious shrines, gilded roofs and palaces with elaborate carvings which you could explore in just a day. However…
What you miss by making it a day trip
The essence of Bhaktapur is only to be experienced at sunrise. That's when the people change Bhaktapur into a magical place. Women and children step out of their houses with platters full of offerings and start their rounds for the gods. They stop at every shrine and every corner of spiritual importance to bring an offering, say a prayer and conduct complex rituals which you, as an outsider, couldn't possibly wrap your mind around. The smell of incense fills up the crisp morning air while the weak sun rays highlight some of Bhaktapur's finest art.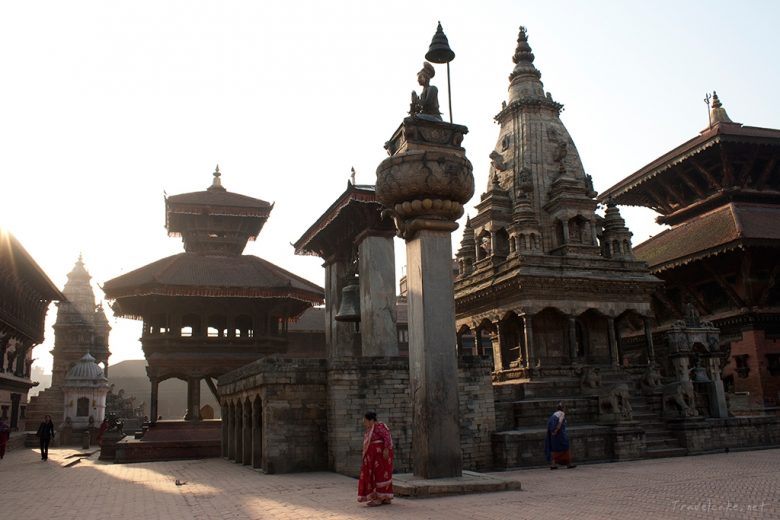 As I mentioned before, Bhaktapur is one of my 12 favourite destinations of all times and the mornings are exactly what made this place more memorable and alluring than others. Coming here on a day trip would mean missing the morning's enchantment, when the tourists are still in bed in Kathmandu and the town is the playground of the people and their gods.
2. Guatape, Colombia
I visited Guatape as a day trip from Medellin by public transport. About halfway through the day, I kicked myself in the head for not being able to spend the night in this extremely colourful town.
What you miss by making it a day trip
Though Guatape is very small and you definitely could see everything in just a few hours, what I missed was the great lighting you would find early in the morning and in the evenings. Even if you're not into photography, you'll probably want to extensively photograph Guatape. It might be the cutest, most colourful town I've ever seen. The bright sunlight during the day makes it tough to capture all the details without harsh shadows overcasting the scenes. We noticed the town turning even more stunning as the late afternoon sun set in. Unfortunately, that was also our cue to head back since we didn't want to arrive at the Medellin bus terminal at night. Dinner and a cool beer at sunset would have been the way to end the day in Guatape.
3. Bethlehem, West Bank
Busloads of tourists coming from Jerusalem,Israel swarm the central square of Bethlehem in Palestine every day. The tours take care of the border crossing, a visit to the historical/religious sanctuaries and safely return the tourists back to Israel after having visited the supposed birthplace of Jezus Christ. Although I understand the importance for many to visit a place of such significance, there is much more to Bethlem/Palestine…
What you miss by making it a day trip
By staying in Bethlehem we were able to visit (and spent a few nights in) a refugee camp, talk to the people of Palestine, get into the current culture, broaden our knowledge on the complex situation… Missing these experiences is missing the point of going to Bethlehem. If you want to see where Jezus was born, shouldn't you see and experience the place it is today as well? My stay in Palestine was eye-opening on so many levels, I could only feel regret for the people who were missing out on the enrichment by only being exposed to a particular church and shrines. If you want to know more about travel in West Bank, read my post to find out what's in Palestine.
4. Pamukkale, Turkey
The cotton castle of Turkey, usually visited as part of a day trip from resorts on the Turkish Riviera. I was surprised to see hundreds of tourists on the site but only a handful of hotels in the town; hello day trippers.
What you miss by making it a day trip
Stay the night in the town of Pamukkale and you'll have the otherwise overrun by tourist cotton castle all to yourself at the crack of dawn. I was the first person to enter the site that day and had teary eyes when I was confronted with the natural beauty and serenity of Pamukkale. I hopped barefooted from one white rock formation to the next, laughing like a child. It was as though I had found a hidden treasure.
Half an hour after my treasure discovery came the first round of day trippers: the Koreans. While they were very respectful of the site and taking their time to look around, I could already feel a change in atmosphere. By the time the buses of Russians took the relay, the serenity was over. People were more interested in snapping themselves looking sexy than in the site. Beers were consumed, hamburgers and ice creams were spilt and what was a place of wonder just a few hours before, turned into a what resembled a crowed outdoors public swimming pool on a hot summer weekend.
I stayed until closing time but the serenity never returned. I understood it could only be there after the site had spent a night recovering from the assault of mass tourism. When I overheard some day trippers complaining about what a tourist trap Pamukkale is, I knew I had made the right move by spending the night and being the first visitor in the morning.
5. Scottish Highlands, Scotland
What was I thinking, booking a day trip from Edinburgh to The Scottish Highlands?! It seemed to be the only way to visit this area during my short stay in Scotland. Boy, did I regret that decision.
What you miss by making it a day trip
As we were driving by the hills that changed colours as the clouds shifted, all I wanted to do was to get out of the van and start walking amongst them. But I couldn't, we were on a tight schedule. Damn these day trips. So what you miss is basically everything. Yes, I saw Loch Ness and yes, I had a delicious meal (haggis, what else) in one of those typical Scottish pubs but I didn't get to spend the night in a rustic B&B or a local sheep farm. Nor was I getting my hiking boots dirty or drinking whisky with Scotsmen. By trying to see too much too fast, I missed most of what the Scottish highlands have to offer.
6. Mekong Delta, Vietnam
Most travellers wanting to visit the Mekong Delta book a day trip from Saigon. It usually consists of a boat ride down the Mekong (while wearing conical hats) with a few stops along the river banks showcasing "real life" around the Mekong. Sometimes the tours also provide bicycles which you ride along the river following your guide and the 20 other members of your group. After lunch and perhaps a few shots of snake-scorpion liquor, visitors are returned to the big city.
What you miss by making it a day trip
Making it an overnight trip gives you the freedom to do the same thing minus the groups and the tight schedule. Because guess what? "Real life" along the Mekong doesn't run on a tight schedule.
We took a public bus to one of the towns by the Mekong then locally booked a boat in the morning -specifically asking for the conical hats. Since no other tourist had apparently spent the night in this town, we had the boat to ourselves. In the afternoon we rented bicycles and randomly started biking. No plan, just me, my friend, the Mekong and its inhabitants. We stopped whenever we wanted, spent an hour hiding from the the rain with a cup of white coffee in a local farmer's house and headed back when the sun started setting. We drank beer and ordered the old "we'll have whatever they're having". With no tourists in town we were (sort of) part of the Mekong community for two days. That's something you can't say if you're passing by on a touristy day trip.
7. Berat, Albania
As Berat is listed as a UNESCO hertige site, people tend to just want to tick it off their 'to do list' and move on. For some, Berat is mere a day trip from Durres on the coast or from the capital Tirana.
What you miss by making it a day trip
If you've been reading this blog, you already know Berat's beauty made me weep and that it was one of my highlights in Albania. Spending the night in the city of a thousand windows allowed me to take it easy in this gorgeous town and savour its charm.
I met a traveller who had been to Berat right before me and told me she wasn't impressed. Immediately whereafter she admitted only having spent two hours there and not have made it to the beautiful parts. Because it's such a slow paced town, it's best visited at a slow pace. Spending the night allows you to do just that and get in sync with the spirit of Berat.
8. Ubud, Bali
Don't be fooled by Ubud's popularity for long and semi long stays, the town get a lot of day trippers. Big buses clog up the main streets and the day trippers come pouring in. The typical day trip consists of hitting the Monkey Forest, doing some shopping in the main street, having an ice cream or perhaps lunch, then heading to a surrounding temple or viewpoint before returning to the coast.
What you miss by making it a day trip
You'll miss the plethora of incredible little restaurants tucked away in surrounding streets and the calm in the rice fields you find just outside the city centre… On a day trip, you'll only have enough time to hit the main street which is not Ubud's best asset. For that reason most the day trippers I have spoken with, found Ubud to be too crowded, too commercial and not authentic at all. Yes, that's because they were in the wrong area during day tripper peak moment (between 10AM and 4PM). Spend the night -or even better, several nights- and you'll see a completely different face of the town. A much prettier, more genuine and serener one. And please, forget about the Monkey Forest.
9. Petra, Jordan
Either from Amman in Jordan or Eilat in Israel, day trippers drive to Petra, spend a few hours exploring the main passageways then return to their hubs or set their journeys onwards.
What you miss by making it a day trip
After spending an entire day exploring Petra, getting lost in majestic caves and climbing the pink rock formations we were happy to casually hang around the site and spend some time with bedouins who had their tents set up near Petra. They offered us tea, played music around a small fire while the sun was disappearing behind the horizon. They shared tales about their families who have been living in the area for centuries. Later, a dinner fit for kings was prepared for us, just down the road from Petra.
On some nights, Petra opens its doors to present a candlelit version of itself. You may not want to dish up the extra cash for the candlelight show, but sleeping in the arid desert area surrounding Petra and meeting the inhabitants is an experience you don't want to miss out on.
Have you ever regretted a day trip because it should have been an overnight trip? Where was it?
The post "9 day trips you should never take", first appeared on Travel Cake.