"Experiencing the festival of Thaipusam"… Yes!! Another travel wish come true. A few years ago, upon doing some research on my travel destination Malaysia, this festival had spiked my interest. I was quite upset when I found out I was just a few weeks late for one of the country's biggest cultural/religious festivals. Six years later, I was pressed against strangers on a train to Batu Caves where Thaipusam was taking place.
Upon arrival I was overwhelmed by strong smells of fried spices, Indian tunes blasting from every stall and an overly excited crowd. I threw myself into the mass to get as close to the action as I possibly could. It was steaming hot and slightly claustrophobic at times, but it was an experience I will never forget.
Thaipusam is a Tamil celebration of faith and gratitude which takes place every year between January 15th an February 15th. It's the commemoration of the occasion where Hindu goddess 'Parvati' gave 'Murugan', god of war, a "vel" (spear) so he could vanquish the evil demon 'Soorapadman'. Devotees make a vow to offer a "kavadi" i.e a physical burden, to request a favour from the god Murugan. The participants then start their journeys 48 days before Thaipusam by 'cleansing' themselves through fasting, praying and observing celibacy. On the eve of the big day, devotees carrying their kavadi, start their 15km pilgrimage- in this case from the main temple in the centre of Kuala Lumpur to the Batu Caves. The intensity of the kavadi ranges from carrying jugs of milk (symbol of purity and virtue) to followers taking a vow of sacrifice at every step by piercing their skins with hooks and spears.
Most of them bring along some kind of an entourage playing music, singing and encouraging them by repeatedly shouting the words "vel vel!" in a trance-like way.
Though it's less common, women and children also take part in the procession. Most of them carry milk, but every now and then you can spot a few of them enduring the pain.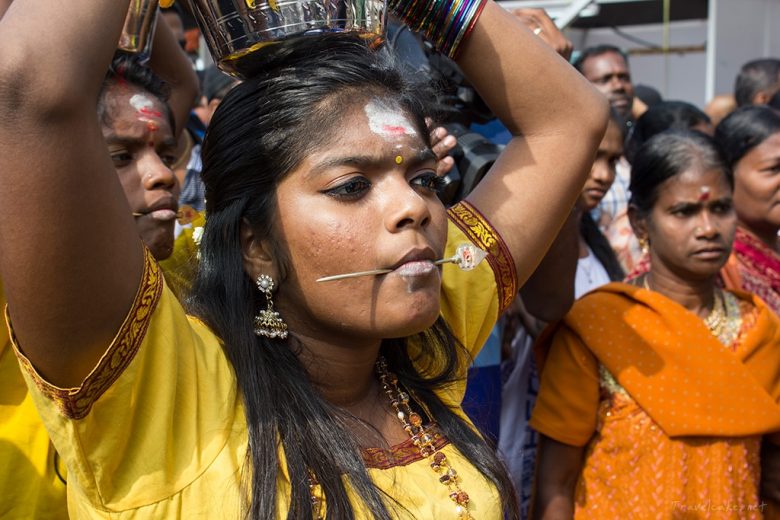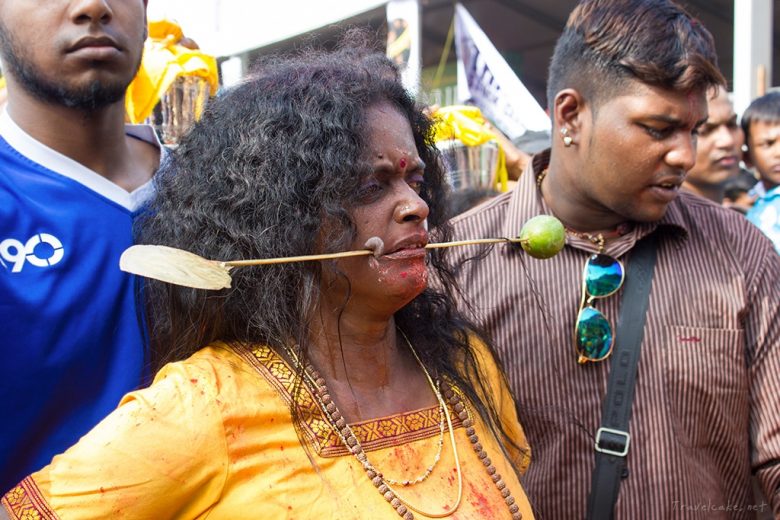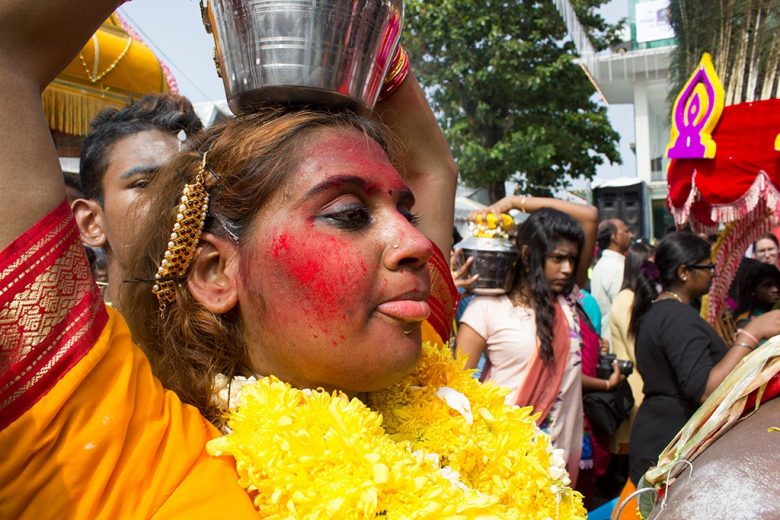 The participants numb their pain with natural herbs and consecrated ashes, moreover helping them to reach a state of trance.
A strange mix of suffering, exhaustion, pleasure, trance, curiosity and spiritual bliss come together to form a peculiar and intense atmosphere during the procession.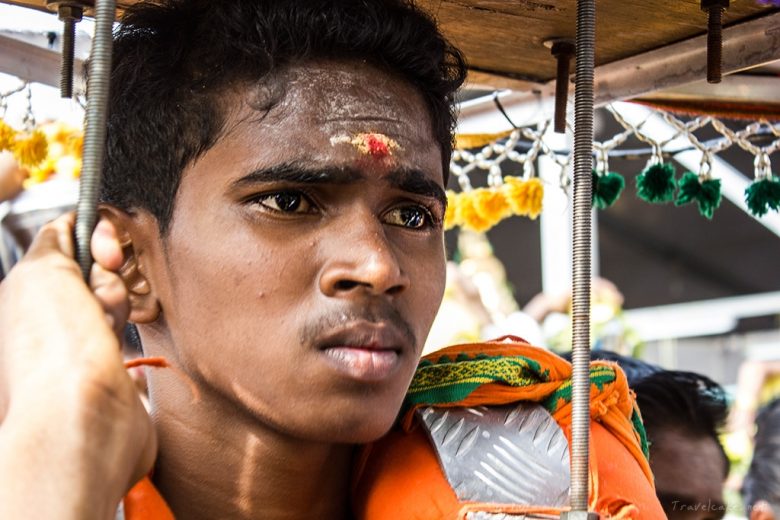 The final sacrificial act of faith is for devotees to climb up a 272 step stairway to deliver their offerings in the Batu Caves temple.
Once inside the caves, the milk is offered and the hooks are taken down. Consecrated ash is sprinkled over the devotees' hooks and piercing before they are removed. No blood is shed during the piercing and removal.
TIPS
Leave your "germophobia" at home. If you want to get a sense of what's going on, you'll be close to people. Very close. You'll be covered in sweat and I guarantee you it won't necessarily be yours.
To get to the Batu Caves, take the KTM. It's not a good idea to take a car or a taxi. Unless you  just love traffic jams.
The procession goes on all throughout the day. However, it's best to get an early start as it can get pretty hot during the day; 8.30-9.00AM is a good time to arrive.
In order to get some good pictures, start at the road, where devotees begin the last leg of their journeys. Then slowly make your way to the entrance of the caves.
You can climb up the steps with the devotees and enter the caves, but beware, this can be a long process. Unless you've never been in the Batu Caves, there not really much to see inside except… People… Oceans of people!
Once you're ready to leave the scene, don't take the KTM back. There is a long queue to enter the train which will be over packed. Instead catch a bus going direction 'town'.
Would you consider going to a crowed cultural festival like Thaipusam?