I've recently discovered an interesting new iPad app by travel search site Momondo. I'm really excited about it so I thought I'd share it with you. 'Momondo places' is an interactive city guide app helping you to find hotels, restaurants, shops, sights, markets and activities for your city trip. At this moment, there are 7 city guides to chose from: Barcelona, Berlin, Copenhagen, London, New York, Paris and Rome.
What's so great about 'Momondo Places'? 
The Originality: The colour wheel
A colour wheel with corresponding "moods" allows you to get specific suggestions of where to go, eat, sleep, play… Feeling 'social'? The app gives you hostels, cheap activities, and vibrant nightlife tips. Pick your mood and you're set.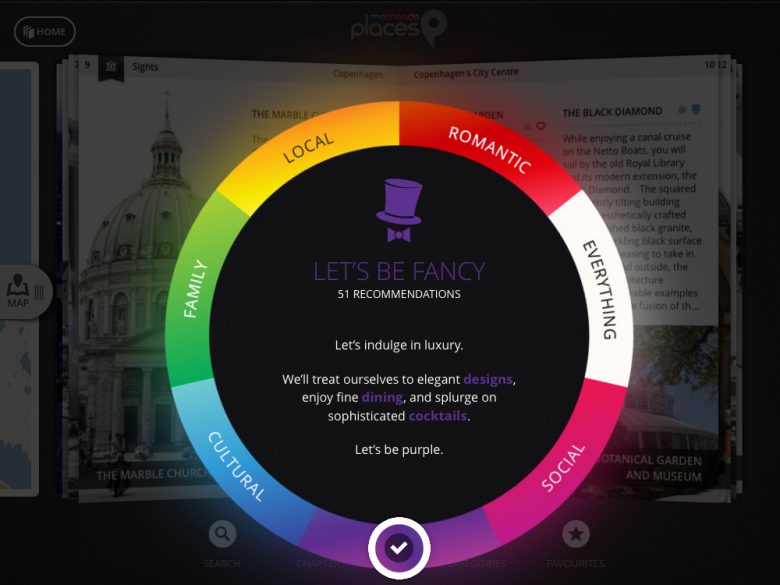 The Usability
'Momondo Places' is a very intuitive app. No need to read a manual to understand how it works, the app speaks for itself. In fact, I'm pretty sure my grandmother wouldn't have any problems getting the hang of it. Aside from the smooth navigation, it's also very flexible; you can search on other criteria besides "mood". Look for specific items like: restaurants only, certain areas only, what's near your current location or all of the above combined.
The Style
The app has stylish visuals. It has the look and feel of a book which allows you to flip through the pages filled with tips. It's packed with beautiful high quality photographs giving you an idea of what to expect.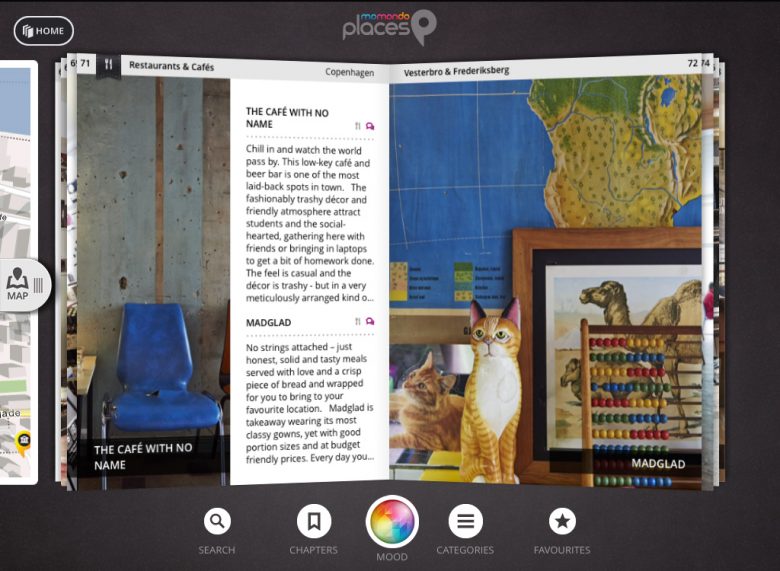 The Content
The guide book is a pleasant read. Again, not too complicated, straight to the point. It features hotspots as well as hidden gems and you can leave feedback for every tip offered. There is also a function that allows you to 'favourite' tips you want to remember or to reuse.
The interactive offline working map
This is might be what I like most about the app. All the suggested places to visit as well as public transportation stops are pinned on an interactive map. Once downloaded, the map is available offline, so you can navigate the city on GPS. You can see yourself moving though the streets and walk straight to your destination.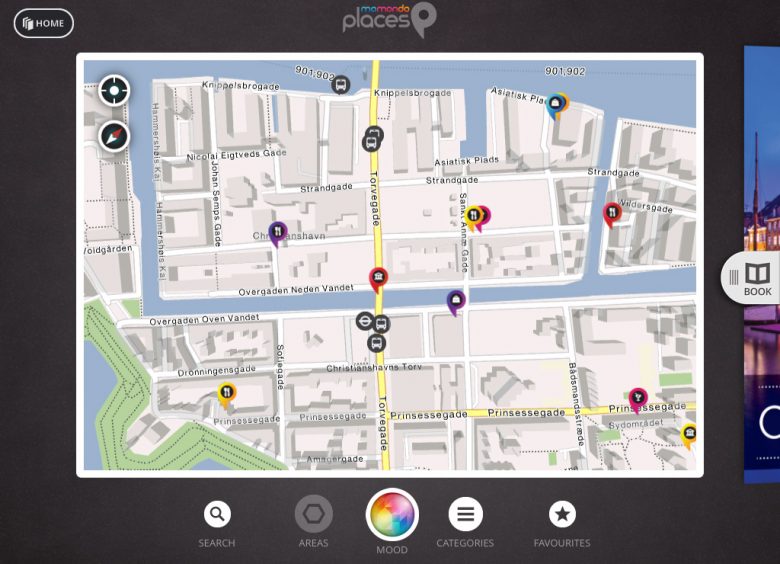 It's free!
You download the app for free, then download the desired city guide(s) for free. As I mentioned above, once it's downloaded, you can use the content and the map without Wi-Fi or 3G. So no roaming costs either.
As you can tell, I'm sold! The only thing missing is more destinations! Momondo is currently working on new city guides covering Lisbon, Amsterdam and Moscow, but I hope there is more to come. They are also developing a mobile app, which is more interesting to me, seeing I don't usually carry my iPad whilst exploring a city.
Check out Momondo Places, it's free! Download the app here.
What travel apps do you use?