While I spent quite some time browsing through inspiring pictures and reading many informative articles about Hong Kong, the city still managed to surprise me in several ways.
1. Dim sum heaven
For someone who doesn't even like dim sum, I was amazed to hear myself say: "Let's have dim sum for breakfast-lunch-dinner… Yes, again!" I can now say pretentious things like: "I only eat dim sum in HK". Hong Kong boasts a ton of Michelin starred dim sum at affordable prices. Famous chefs and renowned magazines/newspapers award prizes to their favourite dim sum places. I wanted to try them all but unfortunately, my stomach doesn't stretch that far.
2. Antique shopping in the morning
Arriving in Hong Kong, all I could see were tall buildings; banks, offices theatres, malls apartments… The city has such a modern feel to it, I certainly wasn't expecting to stumble upon quaint alleyways lined with potted plants, cute stairways and rows of knickknack and antiques stalls. Even though I promised myself not to do any shopping in HK -yeah, right- I couldn't resist purchasing just a few trinkets.
3. The goldfish market
At first, it was all excitement seeing the thousands of goldfish racked throughout the long street. Then I felt uncomfortable seeing all the helpless creatures bumping their foreheads against the plastic windows. But then again… it's local culture and tradition, does that change anything? The goldfish are bought as good luck charms, but they're also important for good feng shui in a home. In this area, you can find more than just fish… There are frogs, shrimp, turtles, birds, hamsters, rabbits… Basically, it's the pets neighbourhood.
4. Helpful, friendly,  non-smiling locals
On several occasions, locals stopped their fast paced treads to ask if we needed help -I admit we looked baffled and lost at times. They would ask us the question, we'd answer thinking a small chat starring "where are you from" would follow, but no… They'd resume their default lives only a split second after we'd state we weren't actually lost. No smile, no "bye"… they'd just off. I liked it: friendly, to the point and no bullsh*t.
5. Egg waffles
Best eaten warm and plain, the eggette is the most popular street food in Hong Kong. Because they are hollow, I thought it wouldn't be of my liking- I'm quite difficult when it comes to deserts. I can tell you this: I was already ordering seconds while my mouth was still full with the first bite. This egg waffle really hits the spot after a long day in the city! Simple flavour, light and not too sweet… Give me some more bubble waffles!
6. Chinese tea traditions
Ok, this wasn't really a surprise, I knew of the existence of the Chinese art of tea. Yet, I had never seen it with my own eyes. The elegance and refinement in which the Chinese lady poured us a cup of Oolong was so captivating I kept pulling out more teas from the rack for "tasting"…  If you're really into tea, you can book a tea tasting tour where you'll learn more about the process and traditions. If you just want a taste of the magic, you can walk into a traditional tea store and ask to sample some teas. It's free, but of course you are expected to buy some brew after an elaborate tasting.
7. Double dekker trams
A perfect fusion between the red British buses and the portuguese trams. I marvelled at the city as the tram unveiled its busy streets and quiet neighbourhoods. Hop on hop off anywhere you want with the octopus card, which I strongly suggest you buy if you'll be spending a couple of days in and around the city. It gives you access to the metro, busses, trams… You can even use it to pay at connivence stores.
8. Hygiene comes first
This is definitely not China! Not only are the streets tidy and organised, there are signs everywhere reminding you that certain things/areas are disinfected several times a day. With such a high population density, I can only applaud it ! Public spaces offer free hand sanitizer and public toilets are clean. It's no Singapore, but still, it would put any germaphobe at ease.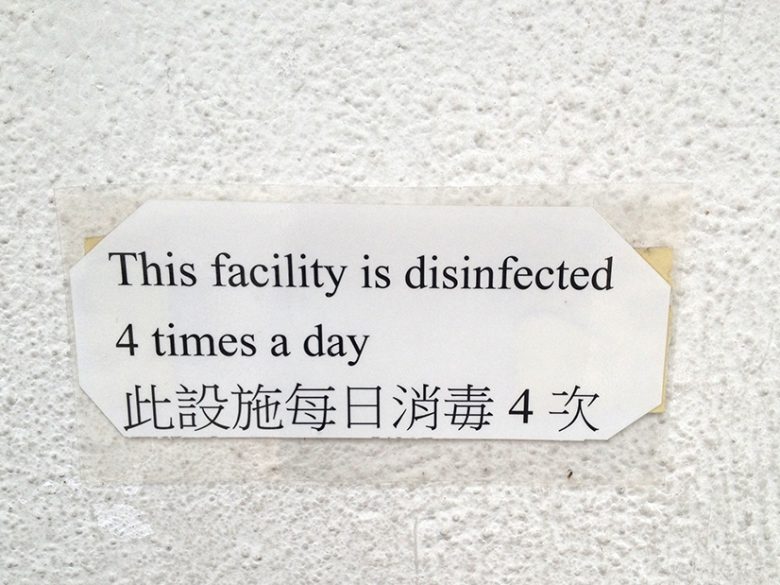 9. The main attractions are kinda lame
At least, the ones I saw were. The avenue of stars where-amongst others- the famous Bruce Lee statue stands, was filled with pushy loud tourists, making it hard to enjoy the Hong Kong skyline. At the same place, there is a free laser and sound show (the symphony of lights) every evening which is promoted as "spectacular". The first 30 seconds were impressive… but after that I shrugged my shoulders and kept walking. I promise, it's not because I'm spoiled, HK expats told me the same thing. Maybe they're spoiled too? Still worth checking it out, just don't expect "spectacular".
10. Lots of funny random stuff
I was expecting more kitsch and "Hello Kitty", but apparently, to get more of that, one needs to go to the "Mainland", which is how locals refer to China. So no real culture shock, but still, I had a few giggles not really understanding things and wondering… "WHY?"
Which destination has surprised you? Is Hong Kong on your 'wish list"?
The post "10 ways Hong Kong surprised me" first appeared on Travel Cake.