Bologna is often referred to as the culinary capital of Italy. Because of its abundance and variety in high quality cuisine, the city was nicknamed "la grassa"or  litteraly "the fat" during the Middle Ages. It was this little fact that had me browsing for flights and checking my calendar. Since I'm currently staying in Europe for a few months, I couldn't possibly resist a food trip to Italy, could I?
So I packed some loose fitting clothes and off I went. Due to work obligations, I only had a short 3 days of spare time, thus limited eating opportunities. I didn't get a chance to sample all that the Emilia-Romagna region has to offer, but I can tell you this:
La grassa does not disappoint! 
Some of the staples I tried:
The Italian cliché: espressos and cappuccinos
It's probably one of the first things that come to mind when you think of people-watching on an Italian terrace, whether you like coffee or not. The espressos were just as strong and tiny as I'd expected them to be and the cappuccinos had a perfect steamed-milk foam collar. For someone who doesn't usually drink coffee, I sure had lot lot of caffeine racing through my system. Good thing it's absolutely not done to order a coffee after 12pm or else I would have been bouncing off the walls all throughout my stay.
Cured meats
Cured meats are not my thing. I hardly ever eat any, but these… These I could eat all day, everyday. It made me wonder if we can even call what we're consuming cured meats. Typical for the region are pancetta, mortadella, different types of salami, prosciutto, zampone… Most eateries offer mixed platters which allows you to sample the different types of artisan meats. For cured meat fans, this is heaven on earth!
Parmesan
The home of parmesan cheese! This is where the good stuff is made. I wasn't fortunate enough to visit the parmesan factory, so I did the next best thing; I waited for the crowds to leave and went to the market near closing time. I talked to the vendors who were relaxed since there was no line of people waiting to get served. I asked them questions about the cheese making process and tried different types of parmesan, to find the one I liked best. The vendors were very informative and eager to share their knowledge.
The "real" balsamico vinegar from Modena
Of course I've had balsamic vinegar before, but the real balsamic vinegar carries history and is made according to tradition. It tastes similar to your supermarket variety but really, it's almost a different product. Did you know the traditional balsamic vinegar goes through an ageing process? Well, I didn't! I tried a 25 year old vinegar. An incredible explosion of aromas! When I heard it pairs well with chunks of parmesan, I just had to try this unusual combination. Just exquisite.
Lambrusco
I tried out lots of Italian wines, a frizzante (sparkeling) Lambrusco is my favourite. I was surprised to learn how widely exported this wine is, as it was first I heard of it. There are white and rosé varieties but the sparkling red is really something unusual and  particularly tasty.
The original Bolognese sauce
So, what we know as spaghetti bolognese turns out to be… a big fat lie. There is no such thing as spaghetti with bolognese sauce. The original sauce, called ragù, was created in Bologna, explaining the 'Bolognese' part of the name, but is not -and should never be according to the Italians- served with spaghetti. It has to be served with (preferably fresh) tagliatelle. I must say, I do prefer ragù with tagliatelle than with spaghetti.
Fresh pasta
Tortellini, tagliatelle, ravioli… You see them in shop windows looking so fresh, so delicious. I couldn't resist and bought a wide variety to cook at home. Yes, I left Italy with a suitcase full of pasta.
Piadina
A flatbread typical of the Romagna region. It's what you would have instead of a sandwich or a wrap. The toppings vary, but are mostly local products. It doesn't look like anything extraordinary but looks can be deceiving. The freshness of the products and their delicate taste elevate this snack to a higher level. Make sure to get a piadina that is freshly made.
Parma ham
There are so many different types, with different ageing processes I couldn't chose which one to get. That's why I asked the shopkeeper to give me a few slices of his favourite one. There is a factory in  the town of Parma open to visitors where you'll learn all about Parma ham a.k.a proscuitto. I wasn't able to visit, but the tastings were good enough for me.
Gelatto
Another classic in Italy. So rich, so flavourful.
Aperitivo
This was my favourite part of the trip. Every day, from around 5.30pm to 9pm most places in Bologna offer food with every drink you order. Some places offer a buffet, others have a fixed aperitivo dish of the day. Everybody flocks to these places after work to have drinks, a chat and something to eat. The food is included in the price of the drink. Aperitivo is the social meeting the culinary and that is perhaps why I enjoyed it so much.
Fresh produce
The markets simply impressed me. With fruits and vegetables looking so vibrant and smelling so fresh, all I wanted to do was to cook. The market inspired me to create… Not only dishes, but just about anything. If I lived here, I would never set foot in a supermarket. At least not for produce.
There are so many other foods typical of the region that I have yet to taste. I like to think it's a reason to go back.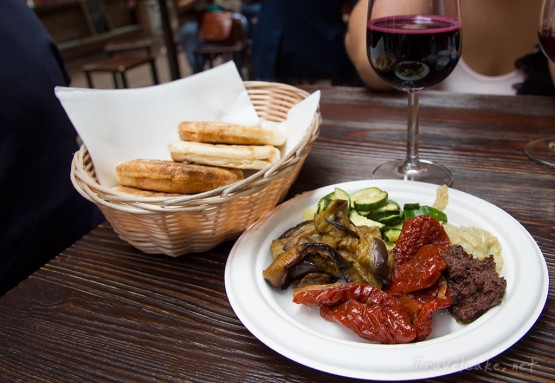 Have you eaten in Italy? What is your favourite Italian dish?
The post "Bologna la grassa, a foodie's paradise" first appeared on Travel Cake.