My trip to Vietnam was somewhat of a failed mission. Over the past few years, I have heard so many negative stories about the country and the hospitality of its people. I had heard about absurd scams, aggressive vendors, rigged taxi meters…
The large majority of Vietnam travelers I met, told me horror stories and/or found it the least likable country in Southeast Asia. Then I found out Vietnam had a returning rate of only  5% where as in Thailand for example, the returning rate is 50%.
What gives? I wanted to experience this first hand, to understand. I was ready to face the madness and let my overly assertive alter ego scream back at anyone scolding me for not buying their goods. I wanted to scam the scammer. So I flew to Saigon, eyes wide open to spot the scams, claws out, ready to scratch back.
So what did I find? Nothing of such sorts. I didn't get scammed, mugged, scolded nor pushed into doing something against my will.
What I found were friendly people who, as opposed to neighboring countries, do a lot less "ass kissing" towards the tourist. I found this attitude rather refreshing, much more natural.
My "mission" didn't fail entirely; the trip did allow me to get some insights on why so many people have negative experiences in Vietnam. But that should be a blog post on its own.
Meanwhile, I had a "jolly good time" in South Vietnam.
Here is how I spent my 8 days in South Vietnam
Drinking Vietnamese white coffee
Strong black coffee with condensed milk and ice. I wouldn't normally go for it, but I had no idea what I was ordering. I guess I was just intrigued by the name. Wow! I was immediately hooked and had a least two white coffees a day, every day.
Strolling around the old quarter of Hoi An in the evening
Brightly lit lanterns, motor free streets, wishing candles by the river… Even without a love interest around, the streets scream 'romance' and had me daydreaming the following days.
Admiring colourful dilapidated walls
It took my travel partner a short while to understand my fascination with these walls, but in the end she was enthusiastically pointing out these alluring walls to me. "Have you seen that one? What a beauty…"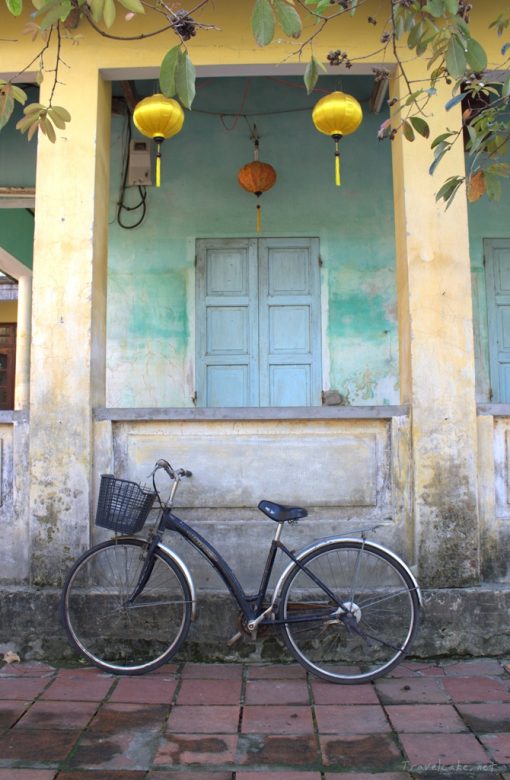 Contemplating a meal at every street corner
It's clear that Vietnamese love to eat and preferably do so on the streets. Every other corner, I was greeted by the mouthwatering smells of a steaming bowl of food. All I needed to do was grab one of the tiny chairs, join the locals and dig in. I tried to restrain myself as often as possible, but… They say you should have 5 meals a day, right?
Getting lost in Hoi An's tiny streets
Of course I didn't have a map. And I loved it.
Waking up at the crack of dawn to visit the hustle and bustle of the morning markets
Being in awe of the dramatic landscape changes
From the mountainous greenery to flooded rice fields to quiet beaches to… Impressive sand dunes and red dirt! I couldn't have suspected I was still in Vietnam. Unfortunately, the dunes were partially ruined by mass tourism. Standing among the tall yellow dunes could have been -and probably once was- a mind boggling experience. But the dozens of deafening quads zooming by killed the marvel. The dunes of Mui Né are still worth a visit though.
Discovering a new kind of stress free work ethic
Exploring the Mekong delta by boat and by bicycle
Indulging in Vietnamese cuisine in Saigon
I met up with a "foodie friend" of mine who has been living in Saigon for ten years. She took me from one incredible restaurant to the next, sampling Vietnamese cuisine, one dish at the time. Vietnamese food was new to me and was an incredible revelation. It tickled my taste buds and I'm hungry for more.
Downing shots of "cobra eats scorpion" liquor
You read that right. Strong alcohol infused with a dead cobra and scorpion. To make the drink more spectacular, the scorpion's tail is inserted into the cobra's mouth. Way more impressive! It tasted like rotting fish eaten out of the stomach of an alcoholic. I paid a heavy price for my curiosity; hours on the loo with severe cramps.
Having sandals custom made
As it turns out, it's not simple to chose a design, material and colour. Hats off to designers out there! After nervous contemplation I put together the elements resulting in some very cute sandals. The shoe maker drew around the soles of my feet and measured each foot individually. Fifteen dollars bought me a pair of sandals that fit me like a glove. However, with the shoe being made in only a couple of hours, I wasn't surprised to get footwear of dubious quality.
Trying a new and exciting kind of "exotic meat"
After my dog story in East-Timor, you might be aware of the fact that I love trying unusual foods. So when I got this new opportunity, I seized it with both hands. I must admit, I had doubts about this one, I even had to sleep on it. Once again, my curiosity got the better of me and I ordered a portion. It was simply delicious! What it was? I'll tell you some day.
Have you been to Vietnam? Is it on your bucket list?
 The post "8 days in South Vietnam" first appeared on Travel Cake.