Tucked away between dark forests of luxuriant foliage, wild gorillas and vast plains of savannas, is a magical place called Lake Bunyonyi. The lake, nicknamed  "the place of little birds", lies in southwest Uganda near the borders of Rwanda and DRC. The 29 hilly little islands scattered around the crater lake are excellent for some R&R right in the centre of Africa.
Awakening the first morning there, I opened my eyes and saw the mist rolling in over the hills onto the glassy lake. The sun had just started shining and the birds were chirping a joyful song. "I can't believe this is real", I thought…
We were staying an open-air geodome, crafted with local materials. No doors, no windows, just a thatched roof and walls with a big opening in the front serving as a gateway to the outside world. From our bamboo beds, we could admire the lake while filling our lungs with the fresh scent of morning dew… So close to nature, yet protected from its harshest elements.
There was a serene silence around the lake. Aside from the occasional slow shuffle of a staff member passing by, the only thing you could hear during the day was the gentle breeze and the sound of birds and crickets.
In bed at night, I could almost hear the stars twinkling. It was like mother earth singing us a sweat lullaby.
Our days were spent spattering in the lake, canoeing to neighbouring islands, hiking, catching up on our reading and devouring the island's delicious organic dishes.
Lake Bunyonyi is were you go to take it easy. Ideal to unwind after some heavy gorilla tracking or after long days spent in safari vans. It's a place of solace and tranquility, a place where you can really 'just be'.
It's a special and magical place in Eastern Africa.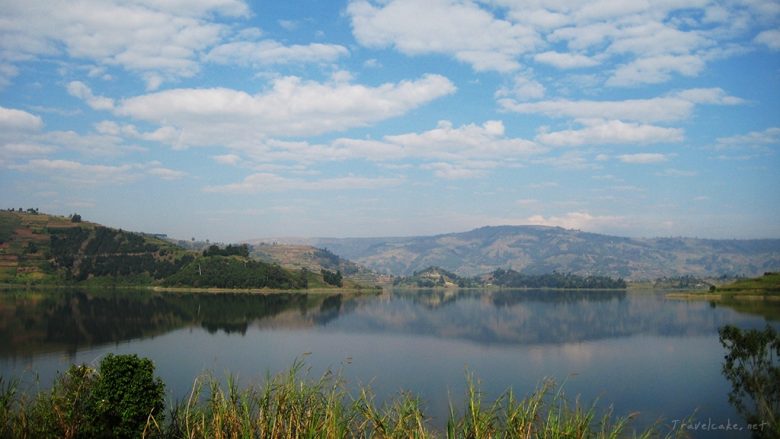 Do you know a special magical place? Where is it?
The post "Special Places: Lake Bunyonyi, Uganda" first appeared on Travel Cake.